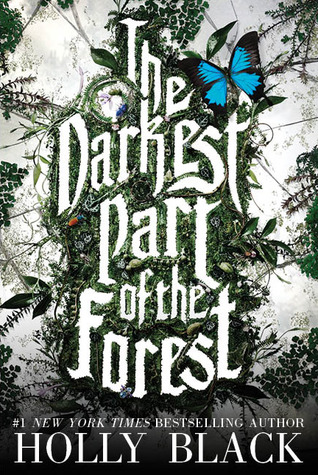 Title: The Darkest Part of the Forest
Author: Holly Black
Publisher: Little, Brown Books for Young Readers
Date of Publication: Jan. 13 2015
Source: bought, hardcover, 324 pages, YA
Get your own copy:
Amazon
| Barnes & Noble |
Book Synopsis:
Children can have a cruel, absolute sense of justice. Children can kill a monster and feel quite proud of themselves. A girl can look at her brother and believe they're destined to be a knight and a bard who battle evil. She can believe she's found the thing she's been made for.
Hazel lives with her brother, Ben, in the strange town of Fairfold where humans and fae exist side by side. The faeries' seemingly harmless magic attracts tourists, but Hazel knows how dangerous they can be, and she knows how to stop them. Or she did, once.
At the center of it all, there is a glass coffin in the woods. It rests right on the ground and in it sleeps a boy with horns on his head and ears as pointed as knives. Hazel and Ben were both in love with him as children. The boy has slept there for generations, never waking.
Until one day, he does…
As the world turns upside down, Hazel tries to remember her years pretending to be a knight. But swept up in new love, shifting loyalties, and the fresh sting of betrayal, will it be enough?
My Thoughts:
I love Holly Black!!!!!
I mean how can you not love her?? She takes these simple concepts, like fairy tales, that we have all read growing up and she flips them upside down to create something all new.
And scary.
I always feel so free and sophisticated reading her books; which I know doesn't make sense. But her books just gives me these awesome feelings when I get immersed in her world building.
The Darkest Part of the Forest
is simply beautiful! I find myself slipping into my childhood memories wandering around in the woods behind my parents' house. I remember pretending to battle evil forces while riding my pretend white stallion as I rescued everyone that needed it.
Relating so strongly to the premise of this story, I found myself trying to savor each and every part of the story. But being that I love the story so much I actually ended up reading through it within two days.
Holly Black does this amazing job of developing characters that can be so complex; so intriguing you wish they were real. I adore Hazel and Ben; I think Jack is Prince Charming in a nutshell; and the Horned Boy is eerily seductive and mysterious.
She has this immense imagination and comes up with such creative creatures that it is hard not to wish there really was a Fairfield where magic happens all the time. Black makes magic seem like it really can come true; even if it contains more of a darker side to it.
Besides doing a fantastic job of creating characters, Black has this incredible talent to paint a world that seems so real as if you could just reach out and touch it. Her storytelling skills is unparalleled. Through her imaginative storytelling she is able to make the words on the pages come to life and adds a more intimate dimension to the story.
The Darkest Part of the Forest
channels some of our basic imaginations concerning fairy tales but then it delivers something else entirely. It gives us the allure of the magic; but it also forces us to see the darkness the power can bring as well. I love this book and I honestly wanted to read more and more with these characters. I really hope that Ms. Black will take us back to Fairfield one more time in the future.
It is definitely a magical experience.
Connect with the author:
Goodreads | Twitter | Website |