Sunday, September 21, 2014
Monday, September 15, 2014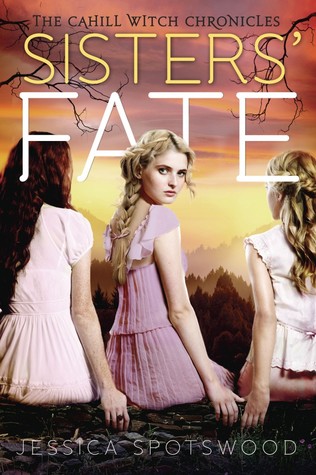 Title: Sisters' Fate
Series: The Cahill Witch Chronicles
Author: Jessica Spotswood
Publisher: Putnam Juvenile
Date of Publication: August 14 2014
Source: bought, young adult, historical fiction, hardcover, 368 pages
From Goodreads:
A fever ravages New London, but with the Brotherhood sending suspected witches straight to the gallows, the Sisters are powerless against the disease. They can't help without revealing their powers—as Cate learns when a potent display of magic turns her into the most wanted witch in all of New England.

To make matters worse, Cate has been erased from the memory of her beloved Finn. While she's torn between protecting him from further attacks and encouraging him to fall for her all over again, she's certain she can never forgive Maura's betrayal. And now that Tess's visions have taken a deadly turn, the prophecy that one Cahill sister will murder another looms ever closer to its fulfillment.
My Thoughts:
Cate has really stepped into her shoes, so to speak. She has come into her own as a woman, as a witch, and as a sister. We have watched this character grow throughout the series to turn into a very powerful and interesting person.
In fact, each sister has contributed to this series in some big and small way to shape it into a fine historical fiction and exciting magical novel.
I wasn't really feeling this cover picture. I just felt it lacked something. I am not sure what, and the model is beautiful but I don't know if that is what I pictured Cate to be like. Of course, this doesn't take away from the novel at all. I was just not into this cover picture.
But the overall plot did deliver very well. There are a few twists and turns that I wasn't expecting but for the most part everything fell into place of how the plot was going in the first two books. We lose some characters I wasn't expecting to and gained a few allies that I was hoping for.
The conflicts between the sisters and Maura comes to a final battle in this story and we are shocked by the turnout. I feel guilty for the way I felt about Maura even though she deserved it and yet I feel like she may have redeemed herself as well. I would have liked for more to happen between the sisters as allies before the ending but again, I understand the way it played out too. Besides, when it comes to series finales I think we will always find something we wanted more just because we really don't want it to end.
Remember how there is always two sides to every story? Well, I really love how our author does that. She shows us that even though the Brothers are the worst people in charge, some of the extreme thoughts of the witches aren't the greatest idea either. Mrs. Spotswood, instead, details one extreme to the next showing us that it is always better to find a compromise or meeting ground.
Another point that I loved about the third book is that there is some revolutionary thinking ( for this time period anyways) where we find the women and men coming together to argue points about breaking away from those in charge.
Besides being a paranormal romance novel, Sisters Fate is truly a great historical novel giving us a look into how women were treated back in this time period. Yes, witches were feared and hated but girls and women were treated terribly too. It is a great novel for someone looking for a magical story but is a very rousting historical fiction.
All in all, I was pretty satisfied with how Sisters' Fate ended the series. There were some things I would have liked to see more of and characters I didn't want to lose but overall the story was carried through very well. I believe we were given what we needed and that is the most important part of a story. Getting what I needed from it not just what I wanted or wished for.
It was a wonderful series and I look forward to anything else that Mrs. Spotswood will bring us in the future!
Get your own copy at:
Would you like to try to win the whole series? Then enter the Rafflecopter below! Good luck!
a Rafflecopter giveaway
Monday, September 1, 2014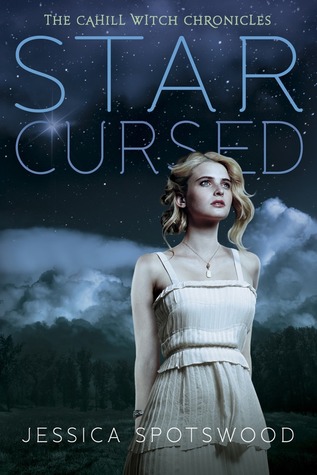 Title: Star Cursed
Series: The Cahill Witch Chronicles
Author: Jessica Spotswood
Publisher: G.P. Putnam's Sons
Date of Publication: June 18, 2013
Source: bought, hardcover 384 pages
From Goodreads:
With the Brotherhood persecuting witches like never before, a divided Sisterhood desperately needs Cate to come into her Prophesied powers. And after Cate's friend Sachi is arrested for using magic, a war-thirsty Sister offers to help her find answers—if Cate is willing to endanger everyone she loves.
Cate doesn't want to be a weapon, and she doesn't want to involve her friends and Finn in the Sisterhood's schemes. But when Maura and Tess join the Sisterhood, Maura makes it clear that she'll do whatever it takes to lead the witches to victory. Even if it means sacrifices. Even if it means overthrowing Cate. Even if it means all-out war.
In the highly anticipated sequel to Born Wicked, the Cahill Witch Chronicles continue Cate, Maura and Tess's quest to find love, protect family, and explore their magic against all odds in an alternate history of New England.
My Thoughts: I wonder if anyone else is ready to have Maura turn herself into a frog or just vaporize herself. I am so ready for that girl to just disappear!!! I dislike Maura immensely and I don't really know if I can ever forgive her for the mistakes she has made. And yes, I gave her the benefit of the doubt in the first book but I just really want to destroy her now! Oh well. Enough of my ranting...On to my review.


Star Cursed

is a roller coaster ride of emotions with so much happening in this book you never have time to get bored with it. We become privy to more secrets concerning the Cahill witches and learn more of the other characters as well. Just like

Born Wicked

,

Star Cursed

is a character driven story with a wonderful cast of protagonists and antagonists that we come to love and hate respectively. Spotswood is amazingly talented at writing the many different aspects of a character's thought process. We are able to visually see the characters work through their anger, their happiness and all of their problems as we go through the plot. It's almost impossible not to feel empathy for Cate as she tries to stand in for their Mother when dealing with her sisters. I even see Cate assuming a "parental" role in the lives of the other witches that are introduced in the novel.
Besides such stunning descriptions of the historical era, the author is also able to give us an interesting story with some intense foreshadowing for what is to come in the series. This leaves us feeling creepy and tingly as we go through the plot. The oracles bring a certain horror factor to the story as well as the setting of Harwood Asylum and its inhabitants. But the most frightening aspect of the story is the Brothers exerting their power more and more everyday.

Star Cursed

will not leave you disappointed as the reader gains new allies and losing more than we were willing to give up. In this sequel we are forced to understand the true meaning of sacrifice. And betrayal.
Get your own copy at:
Amazon
| Barnes & Noble |
Connect with Jessica Spotswood:
Goodreads | Website | Twitter |