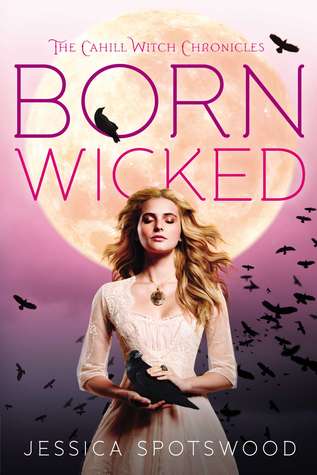 Title:
Born Wicked
Series:
The Cahill Witch Chronicles
Author:
Jessica Spostswood
Publisher:
Speak
Date of Publication
:
Jan. 8 2013
Source
:
bought, paperback, 352 pages
Goodreads Summary:
A gorgeous, witchy, romantic fantasy by a debut author! Perfect for fans of Kristin Cashore and the Beautiful Creatures series!
Everybody thinks Cate Cahill and her sisters are eccentric. Too pretty, too reclusive, and far too educated for their own good. But the truth is even worse: they're witches. And if their secret is discovered by the priests of the Brotherhood, it would mean an asylum, a prison ship--or an early grave. Then Cate finds her mother's diary, and uncovers a secret that could spell her family's destruction. Desperate to find alternatives to their fate, Cate starts scouring banned books and questioning rebellious new friends, all while juggling tea parties, shocking marriage proposals, and a forbidden romance with the completely unsuitable Finn Belastra. But if what her mother wrote is true, the Cahill girls aren't safe--not even from each other.
My Thoughts:
I was a little confused when I first started reading

Born Wicked

. I seriously thought this book was set in present time and I could not figure out why everything seemed so off. But once I realized it was more in the late 1800's early 1900's, then everything seemed to make so much more sense. And actually, I think the story wouldn't have been as interesting if it were a present day novel. This was a time period where there really were witch hunts and women being wrongly accused of witchcraft; so to actually be a witch and growing up in this time period is pretty darn scary and exciting.
I actually love historical fiction and it made me giddy to know that

Born Wicked

was one. But it is much more than just that too. There is also a huge alternate universe feeling to the novel because of the views expressed by the characters. Women are treated terrible in the US (which back then that wasn't unfathomable) but they are treated exceptionally well in places like Dubai. They are even allowed to wear trousers!! Oh I love my trousers and couldn't imagine not wearing them; although I think it would be fun to have the beautiful dresses as well.
I loved the world building as we learn more about the past and why things are so bad now for women from the men called the Brotherhood. There is so much mystery surrounding the witch hunts and there is definitely more to it and just what those in control would have us believe it to be. The author did a wonderful job of creating characters that we can relate to but still have this magical component to them that makes them even more interesting. The three sisters are hard not to love and I find I enjoy each one because of their different personalities and how they meld together to work. Of course, until they don't. I mean they are sisters and sisters argue. Right?
My favorite has to be Tess. I just love how quiet and soft spoken she is but so intelligent. And she is the youngest as well. I feel like Cate, the oldest and the one telling the story, sometimes forgets that each one has a personality that she loves as well. She is just so worried about them all the time, she forgets to actually enjoy their company as well. As a mother, I can completely understand that. Sometimes the worries and frantic nerves can take over and we forget to enjoy the simple things too.
I believe the character development was done beautifully. It is probably the strongest point of the book. We see Cate in all her glory when she is strong and when she feels like everything is falling apart. I just want to reach into the book and give her the comfort that she needs so much. I don't believe she makes all the right decisions but at the same time, I don't know how she could have made any other decision as well. And of course there is a love interest. There is a love triangle but I don't think it is as pronounced as I worried it would be. I think Paul could be a good guy (though he gets on my nerves) and I think Finn is the absolute most adorable funniest guy there is. I even love the name more too: Finn. Plus, he is a bookseller and come on, what is not to love for that!!!??? He is definitely a triple threat.
I am a sucker for all books about witches and magic and

Born Wicked

was a great story that had me hooked into instantly. I feel like there is so much more in the story, hidden between the lines, about women's suffering through the ages, but is told from a magical standpoint. There are a few surprises throughout the book that will shock you and have you shaking your head but all in all I really loved

Born Wicked

! I am starting the second book as soon as I finish this review! I hope it is as good as the first!

Get your own copy at:
Amazon
| Barnes & Noble |
Connect with Jessica Spotswood:
Goodreads | Twitter | Website|