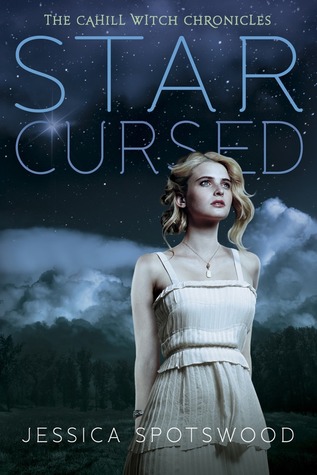 Title: Star Cursed
Series: The Cahill Witch Chronicles
Author: Jessica Spotswood
Publisher: G.P. Putnam's Sons
Date of Publication: June 18, 2013
Source: bought, hardcover 384 pages
From Goodreads:
With the Brotherhood persecuting witches like never before, a divided Sisterhood desperately needs Cate to come into her Prophesied powers. And after Cate's friend Sachi is arrested for using magic, a war-thirsty Sister offers to help her find answers—if Cate is willing to endanger everyone she loves.
Cate doesn't want to be a weapon, and she doesn't want to involve her friends and Finn in the Sisterhood's schemes. But when Maura and Tess join the Sisterhood, Maura makes it clear that she'll do whatever it takes to lead the witches to victory. Even if it means sacrifices. Even if it means overthrowing Cate. Even if it means all-out war.
In the highly anticipated sequel to Born Wicked, the Cahill Witch Chronicles continue Cate, Maura and Tess's quest to find love, protect family, and explore their magic against all odds in an alternate history of New England.
My Thoughts: I wonder if anyone else is ready to have Maura turn herself into a frog or just vaporize herself. I am so ready for that girl to just disappear!!! I dislike Maura immensely and I don't really know if I can ever forgive her for the mistakes she has made. And yes, I gave her the benefit of the doubt in the first book but I just really want to destroy her now! Oh well. Enough of my ranting...On to my review.


Star Cursed

is a roller coaster ride of emotions with so much happening in this book you never have time to get bored with it. We become privy to more secrets concerning the Cahill witches and learn more of the other characters as well. Just like

Born Wicked

,

Star Cursed

is a character driven story with a wonderful cast of protagonists and antagonists that we come to love and hate respectively. Spotswood is amazingly talented at writing the many different aspects of a character's thought process. We are able to visually see the characters work through their anger, their happiness and all of their problems as we go through the plot. It's almost impossible not to feel empathy for Cate as she tries to stand in for their Mother when dealing with her sisters. I even see Cate assuming a "parental" role in the lives of the other witches that are introduced in the novel.
Besides such stunning descriptions of the historical era, the author is also able to give us an interesting story with some intense foreshadowing for what is to come in the series. This leaves us feeling creepy and tingly as we go through the plot. The oracles bring a certain horror factor to the story as well as the setting of Harwood Asylum and its inhabitants. But the most frightening aspect of the story is the Brothers exerting their power more and more everyday.

Star Cursed

will not leave you disappointed as the reader gains new allies and losing more than we were willing to give up. In this sequel we are forced to understand the true meaning of sacrifice. And betrayal.
Get your own copy at:
Amazon
| Barnes & Noble |
Connect with Jessica Spotswood:
Goodreads | Website | Twitter |