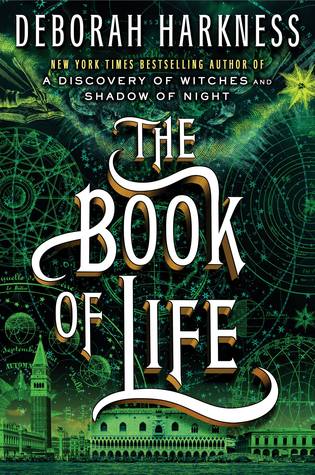 Title:
The Book of Life
Author:
Deborah Harkness
Series:
All Souls Trilogy
Publisher:
Viking Adult
Date of Publication:
July 15, 2014
Source:
bought, hardcover, 561 pages
From Goodreads:
The highly anticipated finale to the #1 New York Timesbestselling trilogy that began with A Discovery of Witches
After traveling through time in Shadow of Night, the second book in Deborah Harkness's enchanting series, historian and witch Diana Bishop and vampire scientist Matthew Clairmont return to the present to face new crises and old enemies. At Matthew's ancestral home at Sept-Tours, they reunite with the cast of characters from A Discovery of Witches—with one significant exception. But the real threat to their future has yet to be revealed, and when it is, the search for Ashmole 782 and its missing pages takes on even more urgency. In the trilogy's final volume, Harkness deepens her themes of power and passion, family and caring, past deeds and their present consequences. In ancestral homes and university laboratories, using ancient knowledge and modern science, from the hills of the Auvergne to the palaces of Venice and beyond, the couple at last learn what the witches discovered so many centuries ago.
With more than one million copies sold in the United States and appearing in thirty-eight foreign editions, A Discovery of Witches andShadow of Night have landed on all of the major bestseller lists and garnered rave reviews from countless publications. Eagerly awaited by Harkness's legion of fans, The Book of Life brings this superbly written series to a deeply satisfying close

.
My Thoughts:
I first have to say this is probably one of the best birthday gifts I could ever receive! But it was bittersweet too because I didn't want to let go of these characters yet. I feel like I could go back and start this series all over again and still find some new morsel that I might have missed the first time around.
I love Deborah Harkness so much! I love her writing style because it can illicit different emotions from me at the same time! I am like a bundle of nerves and calm all the same time!! The many ways she includes the history and the facts about past is so soothing to me but the excitement and adventure that Diana goes on does cause my heartbeat to speed up. I have always enjoyed reading historical fiction and I believe there are many parts of The Book of Life that could make it in that genre. Every time I pick up something from Deborah Harkness it makes me want to travel to London and major in English and History right then and there. She gives it this romantic side that I have always felt but others might not have until now. I finally found someone like me!!!
Besides the glorious writing style, the characters are something else that will absolutely sweep you off your feet. Matthew and Diana, our main protagonists, are amazing creatures who would do and say anything for each other and the people they love. It is sobering to see that devotion played out through the book's pages. But they are not afraid to stand up to each other for what they believe is right, no matter who they might upset. A perfect example is Diana dealing with Baldwin. Can I admit secretly that I really like Baldwin-even though he is a perfect ass. He reminds me of someone that is very rough around the edges but still has that good spot when it comes to his family. I am sure we all know someone like that. All of the characters interact with each other so well in the final book but it was a definite journey throughout for them to get where they needed to be. So we see a lot of character growth in the trilogy, especially where Diana is concerned. She learns to love herself and truly accept everything about herself.
The plot lines in this huge and complicated but very interesting story is amazing in itself. Just as Diana is a weaver, so is Mrs. Harkness as she tells a story of love, magic, deceit and mystery to capture all of our senses and make us think through the major workings of science and history. We learn to combine the two, along with creativity as we delve deeper into The Book of Life. There were times some of the technical terms confused me and I had to rush off to grab a dictionary but I still understood the basic facts. And still enjoyed the story immensely.
I loved this book more than I can really explain because there is so much that it brings and I feel like I am getting so much in just one story. I love historical fiction and I feel like it is hugely a part of that (minus the creature part), I love stories that can combine fantasy with science and check -we got that too. But it is a paranormal romance story too. There are just so many great aspects to the story I believe there is truly something for everyone.
I have to give The Book of Life five stars and more if I could! I am sad to see it end but I am very happy with the ending and I feel like we definitely received the information we needed to feel okay to say goodbye. I would love to see some short novellas about the other characters that we love so much. Hopefully, down the road we might get some more insight to the others in the magical world of All Souls Trilogy.
Get your own copy at:
Amazon
|
Barnes & Noble
|