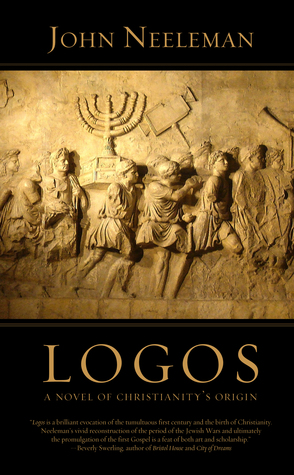 Title: Logos
Author: John Neeleman
Publisher: Homebound Publications
Date of Publication: March 2015
Source: from author; Novel Publicity blog tour
Book Synopsis:
While novels and cinema have repeatedly sought after the historical Jesus, until now none have explored what may be a more tantalizing mystery—the Christian story's anonymous creator. Logos is a literary bildungsroman about the man who will become the anonymous author of the original Gospel, set amid the kaleidoscopic mingling of ancient cultures. Logos is a gripping tale of adventure, a moving love story, and a novel of ideas. None of this should be regarded as out of place or incompatible in a novel about Christianity's origin. Dissent, anarchism, and revolution—and incipient Christianity was no less these things than the Bolshevik, the French or the American revolutions—inevitably have involved ideas, adventure, and romance.
In A.D. 66, Jacob is an educated and privileged Greco-Roman Jew, a Temple priest in Jerusalem, and a leader of Israel's rebellion against Rome. When Roman soldiers murder his parents and his beloved sister disappears in a pogrom led by the Roman procurator, personal tragedy impels Jacob to seek blood and vengeance. The rebellion he helps to foment leads to more tragedy, personal and ultimately cosmic: his wife and son perish in the Romans' siege of Jerusalem, and the Roman army destroys Jerusalem and the Temple, and finally extinguishes Israel at Masada. Jacob is expelled from his homeland, and he wanders by land and sea, bereft of all, until he arrives in Rome. He is still rebellious, and in Rome he joins other dissidents, but now plotting ironic vengeance, not by arms, but by the power of an idea.
Paul of Tarsus, Josephus, the keepers of the Dead Sea Scrolls, and even Yeshua, the historical Jesus himself, play a role in Jacob's tumultuous and mysterious fortunes. But it is the women who have loved him who help him to appreciate violence's dire cycle
.
My Thoughts:
I am so happy to be a part of this blog tour for the book Logos. Don't forget there is a lots of prizes available as well; so make sure to check out the rules and deadlines for those prizes at the end of this post. Huge thanks goes to Novel Publicity and John Neeleman for providing this opportunity!
I was pretty stoked when I seen the description for this book on the Novel Publicity's website for upcoming blog tours.
That description blew me away and I knew; just knew I had to take part in this tour.
Logos
is really one of kind and I don't think there will ever be a book that can come to close to the it in this magnitude.
First off, we need to make sure you know this is a fiction story. It is a theory on who could have been the creator of the Bible and therefore, the Christianity movement. So, when you come in to the story, you definitely need to have an open mind. I think the story appealed to me because I consider myself more spiritual than religious, per say. I love historical fictions and this creative mystery was one of the best!
I love that the author, Mr. Neeleman, gave us an inside view into the religious concepts we learned from the Bible, but with a twist to it. This twist is what really makes
Logos
become an epic journey for one man and in many ways, for ourselves as well.
Logos
makes us expand our mind as we give in to the "what if" situation that has presented itself.
I was just amazed at the amount of research and hard work that went into making
Logos
. As you read through the story, you see this huge amount of diversity of the different peoples known to inhabit that area in that time period. The descriptions are so well laid out it turns
Logos
into a 3 D artistic design instead of just a book.
Logos
also introduces us to some well known and beloved characters but changes them up to make them seem new to us all over again. Many familiar names pop up in
Logos
, including Paul, Josephus,and Yeshua (Jesus) too; but we are also introduced to some new characters as well.
Our main protagonist, Jacob, is a complex character that goes through some serious hardships to become a very important person. I love that we see Jacob as a human with flaws and misgivings, and he learns through his mistakes as he goes through many battles, to become wise in his years.
As much as I did love the creativity put in the pages of the book;
Logos
was also terribly long. It seemed to pay attention to detail a little too much, insofar as describing every little thing intensely. I love detailed world building, but at the same time you have to know when to pull back.
All in all,
Logos
was a spectacular journey into the fictional beginnings of Christianity through the eyes of a man that goes through many spiritual and physical changes to find himself.
Logos
has massive twists and turns that surprised me over and over. It has a mixture of emotions running through it, including love as well as heartbreak. I found myself crying at the horrors Jacob witnessed and experienced in his life. Mr. Neeleman created a interesting story that combines politics, historical accounts, religion, mystery, and even romance to make a well rounded novel for someone with an open mind to enjoy.
About the author: John Neeleman spends his days working as a trial lawyer in tall buildings in downtown Seattle. He lives in Seattle with his wife and children. He also represents death row inmates pro bono in Louisiana and Texas. As a novelist, his editorial model is historical fiction in a largely realistic mode, though there are hallucinatory passages that reflect Neeleman's concern with philosophical and spiritual matters, in part a residue of his religious upbringing. He was raised as a seventh generation Mormon, and rebelled, but never outgrew his interest in metaphysical concerns.
Connect with John on his publisher's website | Facebook | Twitter | or GoodReads..
.
Get LOGOS at Amazon | Barnes & Noble.
About the prizes: Who doesn't love prizes? You could win one of two $50 Amazon gift cards or an autographed copy of LOGOS! Here's what you need to do...
Enter the Rafflecopter contest
Leave a comment on my blog
That's it! One random commenter during this tour will win the first gift card. Visit more blogs for more chances to win--the full list of participating bloggers can be found
http://www.novelpublicity.com/
. The other two prizes will be given out via Rafflecopter. You can find the contest entry form linked below or on
http://www.novelpublicity.com/
logos
/
Good luck!
can be found at
http://www.rafflecopter.com/rafl/share-code/YzE3YzI0YTkzYTJkODQ0ODQxZDUwNTUwMTQ3OTkxOjE1Mw==/?