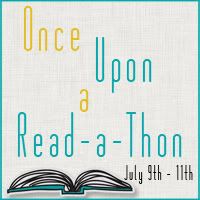 Wow! I am like super giddy right now with everything I have planned this week! I am so stoked to be able to take part in this challenge and I can't wait to get started on it!
Since this is my first "Read a Thon" I am going to take it a little slow.
My goal is four books for this week.
I told my sons about this challenge and they were telling me, " Mom, you could do like 20 books in that time period." Unfortunately they thought I was talking about the small books that we read each night before bedtime. But it is nice to have such admiration from them!
So here is my books for my goal:
Update: I just finished The Vampire Academy.
The Vampire Academy by Richelle Mead
(I had bought this series back in February but still haven't got to it yet. I think I might be the only person who hasn't read this series yet lol )
The Gaia Wars (Gaia Wars # 1) by Kenneth G. Bennett
I have also had this book since January and I have promised to read this out loud to my sons but keep putting it off. Not anymore!!
Never Cry Werewolf by Heather Davis
I have already started this one but I am only a few chapters in it.
Valknut: The Binding by Marie Loughin
This is another one that I have been meaning to start but just haven't got around to it. I put it up as currently reading but I haven't actually started it...yet.
So that is it for my goals! I hope I can accomplish them but I know one thing: I will definitely have fun doing it!