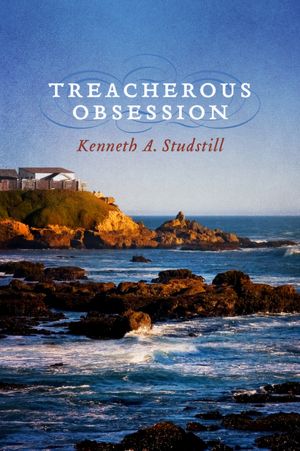 Kenneth A. Studstill
Published: August 2011
Publisher: BookBaby
Format: Digital-Kindle, Nook
Book Blurb:
In this story of unvarnished greed and corruption, Attorney Kevin Charles has no inkling how his professional and personal life mysteriously begins to collapse after he is fired by his client Victoria Roberts. First, his wife files for divorce and the legal bar brings a grievance against him alleging forced sex with a client. Then the State charges him with the crime of rape, and he is excluded as one of a few attorneys slated to make a fortune in a lawsuit against big tobacco companies.
He knows Victoria is somehow responsible for his slide down the slippery slope to professional oblivion and possibly prison. Has she lied for some nefarious reason, or is she simply delusional? If she's not crazy, someone else must be involved, but who? All answers elude him until Victoria seeks forgiveness and tells him of the evil plan to exclude him from being one of the chosen. He doesn't really forgive her; he uses her to wreak a bittersweet revenge. But the price is high, for in doing so, he believes he has lost his soul.
Haunted by what he has done, he moves to California where he lives alone on the coast north of San Francisco and falls in love with Jean.
Devastated when she leaves him, he rationalizes life is full of problems and disappointments. Even so, he hopes he is not beyond redemption.
My Feelings:
Even after I finished

Treacherous Obession

, I found myself lying awake thinking about how this story affected me. The lead character, Kevin Charles, is personable and I found myself drawn to him even as the other characters were too. But I also found a man of his profession to be very naive too in the ways of the world. The first few chapters are beautifully crafted describing the beach home Kevin lives at now. It is so well thought out I felt like I could see it as clear as day.
Then, rather abruptly, we get sent into Kevin's flashback, showing us how he ended up where he is now.
The extensive telling of the law profession made me think of Grisham's writing style. There are a few sexual scenes that add to the treachery of what goes on in this world.
At first glance, I believed this story was going to be more about the lawsuit against the tobacco companies, but in actuality, that is more of background noise to the plot. Everything is centered around a very good person getting even with those who wanted to ruin him. But there is more to this novel than just a revenge story. It has romance in it, as well as a little mystery sprinkled throughout. It will definitely keep you interested to the very end. If you like law dramas then I would definitely advise you to read this one.
There isn't any supernatural factor to this story but the lead character, Kevin, is deeply afraid he may have went too far and corrupted his soul. I also like how they refer to the lawyers on the tobacco suit as the Chosen ones. That makes me raise my eyebrows to that, seeing a parallel to a religious standpoint.
I had to give this 4 hearts. This story made me really think even days after I had finished it. I like books that have the ability to do that.