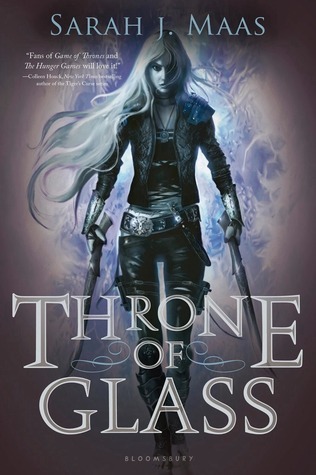 Throne of Glass
Sarah J. Maas
Bloomsbury USA Childrens
May 7 2013
paperback, 404 pages, bought, high fantasy
From Goodreads:
In a land without magic, where the king rules with an iron hand, an assassin is summoned to the castle. She comes not to kill the king, but to win her freedom. If she defeats twenty-three killers, thieves, and warriors in a competition, she is released from prison to serve as the king's champion. Her name is Celaena Sardothien.

The Crown Prince will provoke her. The Captain of the Guard will protect her. But something evil dwells in the castle of glass--and it's there to kill. When her competitors start dying one by one, Celaena's fight for freedom becomes a fight for survival, and a desperate quest to root out the evil before it destroys her world.
My Thoughts:
I have officially found my new favorite fantasy author! Of course, I have a lot of favorites; but Sarah J. Maas is on fire with her writing!! Seriously, she is one awesome creative lady!
Throne of Glass has everything you would expect in a high fantasy: magic, fighting, and a little bit of romance. What makes it much different is our protagonist is a kick ass female. Celaena is one of the coolest heroines in the Young Adult genre right now.
She is a huge complex character that has this exterior that seems so solid and strong; but then when we start delve deeper into her actions we see how broken she really is.

There is a hint to a love triangle but it doesn't overtake the plot at all. Rather, it works well with the problems that arise throughout the story and brings out the positives of both male characters. I don't know how she chooses but I kinda agree with her choice as well. He is AWESOME SAUCE!

Throne of Glass introduces us to a world that could be so beautiful if it wasn't ruled by this evil man who sucks the life out of everything special. That is what is amazing about the author's writing, she can construct this dark awful person and then turn around and create someone so good that you have to have hope for the world. She gives us a world that holds both darkness and light as well as a character that has both traits battling inside her.

I loved this book right off the bat and jumped on ordering the next two books instantly. If you are huge fantasy fans or even just love strong kick ass heroines who are intelligent and super funny then I urge you to pick this book up. It is witty and snarky and has some awesome fight scenes that are comparable to epic movies.
Connect with Sarah J. Maas: