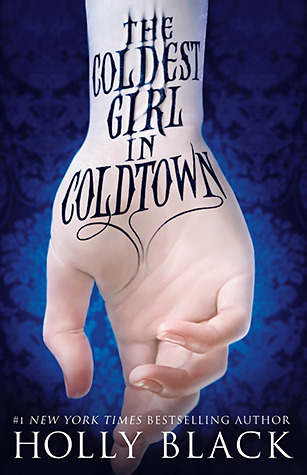 Title:
The Coldest Girl in Coldtown
Author
: Holly Black
Publisher
: Little, Brown Books for Young Readers
Date of Publication:
Sept. 3 2013
Source
: bought, paperback, YA, Horror,
Book Synopsis:
Tana lives in a world where walled cities called Coldtowns exist. In them, quarantined monsters and humans mingle in a decadently bloody mix of predator and prey. The only problem is, once you pass through Coldtown's gates, you can never leave.
One morning, after a perfectly ordinary party, Tana wakes up surrounded by corpses. The only other survivors of this massacre are her exasperatingly endearing ex-boyfriend, infected and on the edge, and a mysterious boy burdened with a terrible secret. Shaken and determined, Tana enters a race against the clock to save the three of them the only way she knows how: by going straight to the wicked, opulent heart of Coldtown itself.
The Coldest Girl in Coldtown is a wholly original story of rage and revenge, of guilt and horror, and of love and loathing from bestselling and acclaimed author Holly Black.
My Thoughts:
The Coldest Girl in Coldtown
is really fantastic! It delivers so much more than just horror but it also gives us a big dose of that too! I am pretty much loving this book and could read it over and over again.
It encompasses every facet of what we love about the old vampire classic books, while still adding something new and original to the mix. And if you read the acknowledgments, you will see that Holly Black gives thanks to all the masters of vampire literature and this book is somewhat of an ode to them.
As you read, you will notice the similarities with the classic authors but Black does add her own voice to this masterpiece and we get something wholly different and terrifyingly perfect. The way that Black interprets vampire culture was an eye-opener. She showed us the love affair that this society has with the vampires; but then gives us the grisly side of them also. It makes us take off our rose colored glasses and see what is really there- monsters.
And in doing that, made the story a thousand times better! I loved the gritty raw side to it all. There is gore and there is destruction and it just enhances the story so much more.
Black takes our society right now and our fascination with the undead monsters and adds an supernatural element to it. She gives her story the perfect setting and a strange and frightening alternate universe. The nightmare, then, has come to life.
I am also a huge fan of Holly Black's writing style. She uses pretty awesome phrases that tend to give the reader a couple of different ideas as they read. For example, her use of the word "orgy" was a plus for me, because I haven't heard it used in this way:
In using such phrases, I can really feel the intensity of the scenes she is trying to convey to us. She also introduces us to more symbolism in the story. I love how she personifies Death and makes it the main theme of the book.
"Every night in Coldtown, people die. People are fragile. They die of mistakes, of overdoses, of sicknesses. But mostly they die of Death."
page 247
Death seems to be almost as important as our main character, Tana, is. In fact, it seems all of the characters share a few traits with each other, like their being flawed, but they also seem to have Death shadowing them everyday. Some of their flaws are simple and some are so strange and frightening that it makes them seem so disconnected from society.
And of course, I can't forget the many beautiful and hypnotizing poetry that she puts at the beginning of each chapter. I am huge fan of poetry, so I was literally writing down poets I loved so I could learn more about them.
Besides all of this, there is this morbid and creep chill factor that sets the scenes in all of their horrific glory. It is pure macabre and I was in love every minute as I cringed and eagerly wanted more and more. And what added to this display of terror was the foreshadowing in the novel. Like this one here that just makes tingles run down my spine:
"The clerk took a long look at Tana.
"You're never getting out, honey. So don't you worry about it."
Is this a dire warning or is it just the prejudice of a mundane character? I don't know but that just really gives me the creeps. There is no hope in that person's outlook. Sad.
Through all these wonderful additions to the story, there is an even more important detail to the book and it is the plot. While reading The Coldest Girl in Coldtown I was thrown for a loop so many times. There are many of twists and turns that I wasn't expecting in a million years, but am glad that they were there.
Simply put, Holly Black is one of the most fantastic, most amazing, and decidedly one of the best storytellers this generation is lucky enough to read. I look forward to more from her and I am in awe of the creativity that was put into this book. Hands down this is a five heart book!
Pick up a copy of The Coldest Girl in Coldtown:
Amazon
| Barnes & Noble |
Connect with Holly Black:
Website | Twitter | Goodreads |